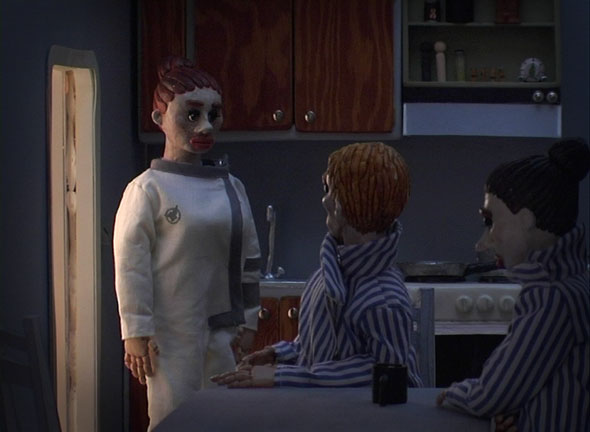 We've decided to start this blog as an official channel of information on The Weapon – A Tale of Passing Time, our animated short film that has been in production since the autumn of 2006. It would be an impossible task to sum up the various stages of production, most importantly the film is completely finished now and we are planning the release and various screenings. Hopefully we'll publish a more throughout documentation of the whole process; from screenplay and sketches, through character design, set design, recording and animation, to post production, sound and special effects.
(I am tinkering a bit with this blog for a few days, don't mind bits and pieces out of place, everything will settle in the end.)
Why is this blog in English?
A good question, since the film is in Swedish and we are a Swedish production company. Well, there has been quite some interest in The Weapon from abroad, especially in the international stop motion animation community. Instead of having to do unevitable translations later on, and having to answer questions in two languages, it is easier to just do the whole thing in English from the start.
What is happening at the moment?
We finished post production early in March this year, which means that the whole film (after almost three years!) is finally complete. Our first official screening will be on the 19th of March in Gävle, Sweden, at the X9 Anime & Shortfilm monthly festival. This is quite an important event, since most of the film was made in Sandviken near Gävle. We got more support than we could hope for from Film Gävleborg, IDKA and other members of the local Gävleborg film community. This means we are finally showing the film to those who have followed us and supported us from the start.
The screening starts at 19:30 on the 19th of March, at Kulturkiosken, Nygatan 41, Gävle.
Be there if you live nearby, we will be there too, introducing the film and probably answering questions afterwards.
And then?
Some kind of release party (including a screening) in Stockholm is planned for early April, although no date is set yet. Keep an eye on this blog for more info on this. More screenings will follow. We are currently designing and manufacturing a DVD that will be available for sale here and in other places. You will also be able to download The Weapon in high quality with subtitles in several languages. We've also got some press coverage, it will be available at this blog as soon as the material has been digitalized.
If you have any questions, don't hesitate to send us an e-mail.