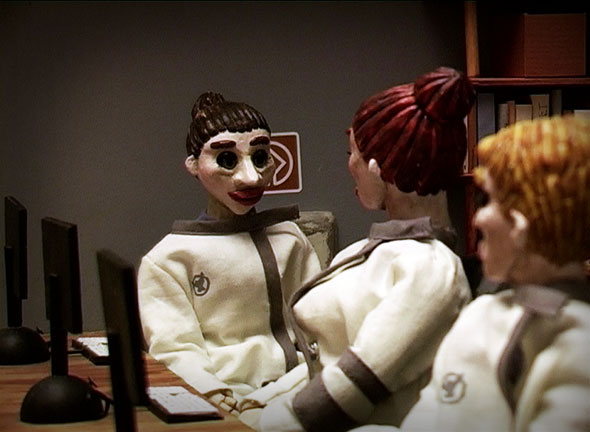 Lydia, Lorenzo and Augustine work at Minerva, a space station in orbit around Earth. The station is the most important part of a defense system for maintaining World Peace. Until the three of them receive new orders and new software, orders of War. Disagreement ensues and the central question becomes: are you individually responsible?
The Weapon – A Tale of Passing Time is an animated short film in a science fiction setting.
Production Credits
Direction and production
Markus Amalthea Magnuson
Mattias Valenca
Sandra Valenca
Screenplay
Markus Amalthea Magnuson
Design
Sandra Valenca
Cinematography
Markus Amalthea Magnuson
Sandra Valenca
Music
Markus Amalthea Magnuson
Leo Nathorst-Böös
Sound
Mattias Valenca
Voice acting
Elin Andersson (Lydia)
Markus Amalthea Magnuson (Boyfriend)
Mattias Valenca (Carl)
Håkan Waara (Lorenzo)
Norea Wahlbeck (Augustine)
Translation
Meriç Algün Ringborg (Turkish)
Flore Allemandou (French)
Simon Andersen (Danish)
Friedemann Bochow (German)
Ernesto Gómez (Spanish)
Markus Amalthea Magnuson (English)
Albert P. Martí (Catalan)
Marcello Testi (Italian)
Funding and support
Film Gävleborg
IDKA/Institute of Digital Arts
Lars Bucan Cultural Foundation
The Library of Sandviken
Thanks
Israel Benavides
Simon Eliasson
Viktor Eriksson
Karin Forsberg
Matilda Kihlberg
Hanna Krantz
Kenneth Magnuson
Sergio Valenca
Åsa Wirén Jonsson
The Weapon has been approved by Statens Biografbyrå, and is considered suitable for children of all ages.
What is Nattlek?
Nattlek is a young production company originating from the do-it-yourself-movement and friendly to participatory culture. The Weapon – A Tale of Passing Time is their first major film project, started in autumn 2006 and finished spring 2009. The film is entirely self-produced, with a budget at less than an average monthly salary.